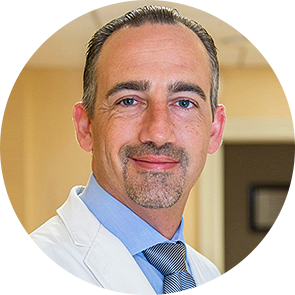 Dr. Wells of Fort Lauderdale Orthopedic Surgery and Sports Medicine is fellowship trained in sports medicine and board certified by the American Board of Orthopedic Surgery since 2008 and has been in private practice since 2005. Growing up in New Jersey, he developed a love for south Florida during the years that were invested in completing the intense University of Miami/Jackson Memorial Orthopedic Surgery Residency.
Dr. Wells completed the prestigious American Sports Medicine Institute Fellowship in sports medicine and arthroscopy where he trained under Dr. James Andrews and had the opportunity to treat countless professional, collegiate, and high school athletes. He served as a assistant team doctor of the Auburn University Tigers from 2004 to 2005 before moving to Fort Lauderdale. He continues to specialize in evaluating and treating athletes of all ages and competitive levels from professionals to weekend warriors.
Dr. Wells specializes in shoulder, knee, elbow, and ankle injuries. He prides himself in healing patients when possible without surgery. In those injuries that do require surgery, he strives for a minimally invasive, frequently arthroscopic approach to speed healing, maximize recovery, and minimize pain and scarring. He also continues to treat fractures and dislocations of all major bones with cutting edge techniques and physical therapy and rehabilitation protocols.
Dr. Wells graduated summa cum laude from the Schreyers Honor Program of Pennsylvania State University and completed medical school with highest honors from UMDNJ-Robert Wood Johnson (Rutgers) Medical School. Dr. Wells feels that his experience in college and medical school where he had to work several jobs to pay his expenses has allowed him to stay more "real" and connected to his patients. He prides himself in relating to patients on a personal level and advising each patient as if they were a member of his family or a close personal friend, while explaining their condition or injury in simple understandable terms.
Dr. Wells was selected as one of "America's Top Orthopedists" in 2010 by the Consumers' Research Council of America and has alos been awarded "Most Compassionate" physician for several years by Vitals.com. He is a Diplomate of the American Board of Orthopedic Surgeons, a fellow of the American Academy of Orthopedic Surgeons, has published several research papers, and is a member of the American Orthopedic Society of Sports Medicine, Florida Orthopedic Society, Broward County Orthopedic Society, and the AOA Medical Honor Society. He has served as team physician for several local "travel" soccer teams.
Get your life back. Make an appointment to see Dr. Wells by calling Fort Lauderdale Orthopaedics & Sports Medicine today at , or click below for appointment times or use our convenient Request an Appointment form.